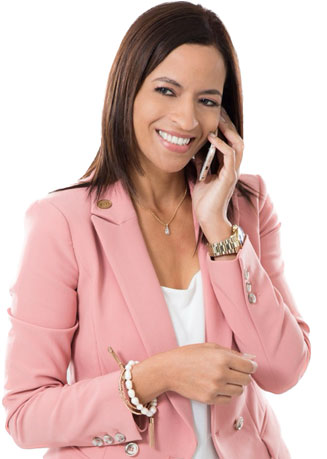 Born in the city of Bayamón. Fruit of the upbringing of an exemplary and hardworking mother who knew how to educate her and take her on the path of overcoming. Today, Carmen Maysonet, Yaritza's mother, can see the fruit of the sacrifice of an exemplary mother with deep Christian convictions and good values. She is the youngest of 2 siblings, both professionals. Mrs. Yaritza Vázquez attended elementary, middle, and high school at Colegio Nuestra Señora de Guadalupe in Hato Rey, where she always maintained an excellent academic average. She entered the Metropolitan University of Cupey where she obtained a bachelor's degree in Business Administration with a concentration in Management and minor in Marketing. Just as she was about to begin her master's degree, she met the fascinating world of Real Estate, and his life took a 180-degree turn.

She came to our company on January 26, 2006, demonstrating leadership, motivation, growth, and a great desire to learn and grow in the business. Her mastery in each of the fields that she knew, caught the attention of Mr. Navedo, who appointed her President of the company for the year 2007 to the present. Her character, principles, loyalty, values, virtues, charisma, among others, have led her to preside over the company with excellence, so much so that she has managed to maintain it as one of the most valued and recognized companies on our Island. Today, at 17 years old of experience, continues to lead and guide us to continue helping so many families on our Island.

She always thanks her mentor, Mr. Navedo, for believing in her and giving her the necessary tools to be able to develop and grow in a market that, in those days, was difficult to enter and maintain. Today one of his biggest projects is to be able to help so many new Real Estate brokers and sellers who have the desire and passion to venture into this field to grow and develop in this Industry.

In her youth, Mrs. Vázquez was an athlete, representing our Island as a "kick boxer" in and outside of Puerto Rico. For this reason, she was recognized as an Exemplary Youth by the House of Representatives of P.R. for the year 1996 and she received the dedication of the former "Fiestas Patronales" of the town of Toa Alta.

Today, with great pride, it represents the firm Melvin M. Navedo Real Estate PSC, made up of an excellent group of brokers and sellers who are attentive to providing a quality service and being able to transmit in each service they offer, the passion that he transmitted to them, its founder, Mr. Navedo.

"I have been blessed when God opened the door of Melvin M Navedo Real Estate for me, and I want to help and give each family that I touch, the opportunity that I had, to be able to serve my people and help so many people to have their own home. We were born to bless and as we bless others, we are blessed."

Mrs. Vázquez is also a licensed #40 General Instructor, investor, mother, wife, and real estate broker. Her expertise, handling highly complex cases. She says they are the best, because the more complicated, the more you learn, and the more you learn, the more you grow. Her favorite phrase: "Always Grateful".