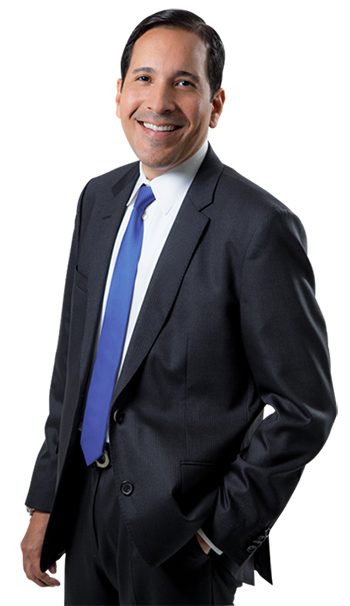 Born in the city of San Juan. He of hard-working parents and good citizens. Don Marciano Navedo, ex-auditor of the government of Puerto Rico, and Mrs. Aida Marrero, a housewife, who knew how to educate and discipline him. Today you can see the fruit of the sacrifice of an exemplary family of deep christian convictions and good values. He is the youngest of 2 brothers, both professionals. Mr. Melvin M. Navedo completed his elementary, secondary, and higher education in his native town, where he always maintained an excellent academic average. He entered Interamerican University where he obtained a Bachelor of Business Administration with a concentration in Accounting and completed an MBA degree in Accounting at the University of Phoenix.

Mr. Navedo has always shown an ability for mathematics and sales. He is characterized by his christian and moral principles that make him endow with wonderful qualities and virtues, that is why his friends and family respect and admire him. He has always had a north and a south in his private and professional life, which is to set the best example and trace a path full of hope and love to all Puerto Rican families, helping them achieve their dreams through the acquisition of their new home. After 10 years of working as an accountant, he decides to undertake a new challenge in the world of Real Estate, setting himself the goal of passing the Broker exam required by law to be able to practice this profession. Quickly and without looking back, he began with great will and determination, achieving in his early years the dream of many families; in addition to achieving a place as a Real Estate company in the northern area. This project is achieved with the help of great friends who trusted him and his achievements. By 2003 and 2005, he was recognized as Young Entrepreneur of the Year by the House of Representatives. He adopted a marketing plan based on his experience and ideas, which allowed him to achieve his short-term goals.

Today his firm Melvin M. Navedo Real Estate PSC is made up of an excellent group of brokers and sellers who provide quality service. The passion that he feels for what he does is transmitted every minute that he speaks, and it is that for Melvin M. Navedo, the sale of properties is not a mere job: it is a vocation that allows him to serve.

It has been a motivating entity for about twenty citizens who have wanted to practice the profession, as well as a group of investors, guiding them so that they achieve a significant increase in their investments. He has also motivated young people and families who for one reason or another are afraid to take a step towards acquiring their first home. As in the handling of objections, which has been the hallmark that has marked his professional life.

Mr. Melvin M. Navedo has returned the support of his clients with free guidance through the different newspapers of the country in which he informs them about a variety of current issues in the field of Real Estate. Currently, Mr. Melvin M. Navedo is a Real Estate Investment Advisor, Financial, Mortgage Investment Advisor, CEO of the firms Melvin M. Navedo Real Estate PSC, MN Investment Group, among other affiliates. Known for his phrases: "Never stop fighting until let the fight end", "Get out of the alquila'o" and "Always Positive". Today he is the first Real Estate Broker who became the youngest owner and CEO of a mortgage bank in Puerto Rico, Latin American Financial Corporation.